Public Cloud Platforms (Google & Amazon) vs Private Cloud Colocation
What is Amazon Web Services (AWS)?
Amazon Web Services is a cloud platform that offers easy-to-use, cost-effective, flexible, scalable and reliable cloud software solutions. Many small-scale and large-scale entrepreneurs have built a complete cloud platform due to the collection of services offered by Amazon.
What is Google Cloud?
Google launched its cloud platform, Google Cloud Platform, in 2011. Similar to Amazon's cloud computing platform, it helps all kinds of businesses grow and thrive. This cloud platform leverages Google's massive infrastructure. It provides services that are flexible, intelligent and secure.
The Key Differences
| | |
| --- | --- |
| Google Cloud Platform | Amazon Web Services |
| A suite of Google's public cloud computing | Secure cloud services managed and developed by Amazon |
| Offers Google's cloud storage | Offer Amazon's own simple storage services |
| Data transmission is fully encrypted | Data transmission is a general format |
| Volume size is 1GB to 64TB | Volume size is 500GB to 16TB |
| Provides backup services | Provides cloud disaster recovery services |
Why Amazon Web Services?
The most prominent advantages of AWS include:
If you're using an app, AWS offers a simple deployment process
If you have a DevOps team that can manage the infrastructure, AWS is a good choice
There is a minimal time commitment when you're deploying a new version on your mobile or on the web
If your project needs high computing power, AWS is ideal
If you're looking to improve the productivity of your application development team, AWS is an excellent fit
Take the advantage of functionalities like setup, scaling, configuration and various other services
Pay only for what you use without any future long-term financial commitments
Access cloud services quickly with limitless storage capacity
Why Google Cloud Platform?
The benefits of Google Cloud Platform include:
Conducive to employees working remotely
Google's infrastructure is forward thinking (or future-proof)
A serverless environment that allows users to connect to cloud services
An opportunity to leverage Google's intelligent data analytics services
You can also take advantage of machine learning and other big data products
Easily integrate payment configuration and Offers Instance
The Bottom Line
In the battle of Google Cloud vs. AWS, it's difficult to declare a clear winner because they both have many advantages. The winner will differ based on what each individual or business requires from a cloud service…
For computational purposes, AWS offers options that can be tailored to all kinds of devices and operating systems. Meanwhile Google's scalable computing engine delivers VMs directly to Google's data centres. It can boot quickly and offer a lot of disk storage. You can also expect consistent long-term performance that can be customized depending on your needs.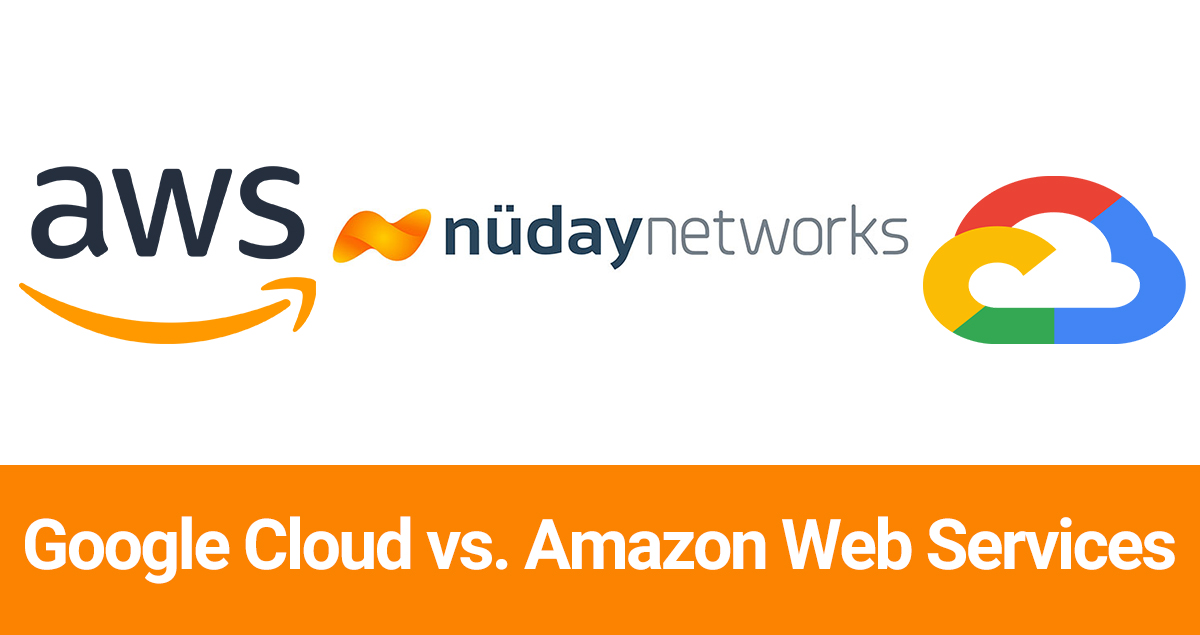 To make matters even more challenging, there is another choice besides public cloud services, to consider builing your private cloud in a public colocation data center.
The main difference between private cloud colocation and public cloud services is physical location. With private cloud colocation, you own the server and appliances, and a colocation provider hosts it in their data center; they provide the space, power, rack and bandwidth.
The public cloud differs because it is not a physical place, which you can access or manage or safegaurd its security; it is a software and/or hardware available via the Internet.
Colocation is cost effective and managed by experts in data security, an important advantage when you're considering how to safeguard important business data. Before you decide between Google Cloud versus AWS or cloud service versus colocation, you need to understand what you truly need from a data storage solution or provider and make the best choice based on those factors.